Map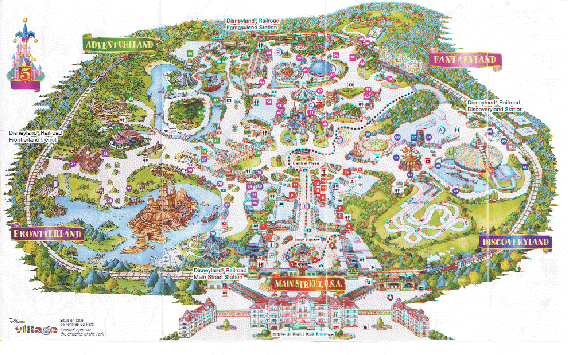 There are five zone in eurodisney.
MAIN STREET.U.S.A
FRONTIERLAND
ADVENTURELAND
FANTASYLAND
DISCOVERYLAND
MAIN STREET U.S.A-Main areas
1.Disneyland Railroad-Steam train to frontierland,fantasyland and discovery land.
4.discovery arcade-Intricate miniatures of turn of the inventions.
FRONTIERLAND-Main areas
16.Phantom manor-Ghostly ride through adventure in the once stately house on a hill
18.Big Thunder Mountain-High speed thrill adventure aboard a runaway mine train.Attention:height restriction-1.02m
ADVENTURELAND-Main areas
32.Indiana Jones-High speed thrill adventure through an archeological excavation.Attention:height restriction-1.40m
FANTASYLAND-Main areas
43.Peter Pan's flight-Ride through adventure over London to Neverland.
50."It's a small world"-The world's happiest cruise with hundreds of singing and dancing dolls.
DISCOVERYLAND-Main areas
58.space mountain-High speed thrill adventure through the far reaches of space.Attention:height restriction-1.40m
60.Le Visionarium-360 degree time travel adventure with Jules Verne and Timekeeper.
62.Autopia-Futuristic cars(seasonal)
63.Les Mysteres du Nautilus-Discover Captain Nemo's legendary submarine from 20000 Leagues under the sea.
65.CineMagique-Michael Jackson is "Captain EO" in his 3D musical motion picture space adventure.
66.Star Tours-High action space adventure from disney and George Lucas.Interactive computer games in L'Astroport Services Interstellaires.